Contents
PQ17 Diary
Jack Bowman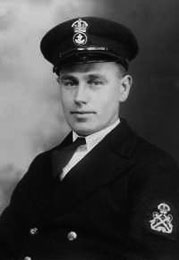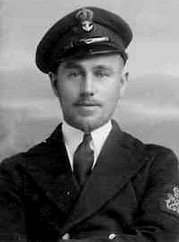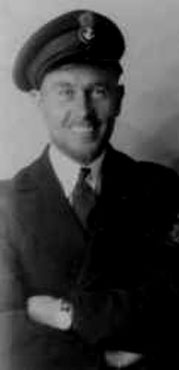 Engine Room Artificer (ERA) HMS La Malouine, 1940-44. Images (c) Bowman family archive.
Biography | Jack Bowman
John (Jack) Bowman was born in Penrith, Cumberland (now part of Cumbria, in North West England), on 23 November, 1907. His early career was with Westmorland County Council with whom he was a mechanic. A few years before the outbreak of war he secured a post as a temporary ferryman on Windermere (England's largest lake). He was to keep this "temporary" job until his retirement in 1975!
Despite being in a reserved occupation (as a ferryman there was no necessity for him to join the armed forces), Jack volunteered for service with the Royal Navy in late October 1940. His previous engineering experience was recognised by the navy and he was made an Acting Petty Officer on enlistment. Because the Navy required formal qualifications for substantive appointments, Jack retained the acting rank until April 1944 when he was confirmed as a substantive Chief Petty Officer.
Jack talked very little about his wartime experiences. He did however keep a diary on two occasions. One was during PQ17 and another during his time in the Meditteranean. Why he chose to keep one for PQ17 isn't clear as he decided to record his thoughts before he was aware of what was to unfold.
Jack left HMS La Malouine in the Mediteranean in 1944. He then joined the destroyer HMS Colombo before finishing the war based ashore at HMS Dolphin, Portsmouth, UK.
After the war he returned to his job as a ferryman, which he thoroughly enjoyed. He continued with his hobbies of caravanning and Freemasonry for the rest of his life.
He was married to Jean and has two sons; Malcolm (1935) and Ian (1942).
Jack died in 1988.
JOHN BOWMAN : ROYAL NAVAL RECORD OF SERVICE
Port Division | Portsmouth
Official No | MX18093
D.o.B | 23 November, 1907
Born | Penrith, Cumberland
Trade | Fitter
Engagement | Volunteered 30 October, 1940, until the end of the period of the present emergency.

HMS Victory - Acting ERA4 Fitter, 30.10.40 to 22.01.41
HMS Marshall Soult - 23.01.41 to 15.10.41
HMS Victory - 16.10.41 to 28.10.41
HMS Victory - 29.10.41 to 25.11.41
HMS La Malouine - 26.11.41 to 15.07.43
HMS La Malouine - 16.07.43 to 05.04.44
HMS La Malouine - ERA4, 06.04.44 to 31.08.44
HMS Blenheim - 01.09.44 to 25.09.44
HMS Colombo - 26.09.44 to 12.05.45
HMS Victory - 13.05.45 to 22.06.45
HMS Dolphin - 23.05.45 to 26.12.45
Payment of war gratuity and PWC authorised.
09.01.41 - Qualified in First Aid
22.12.41 - Granted Boiler Room Watch Keeping Certificate
01.04.44 - Granted status of Chief Petty Officer
06.04.44 - Passed professionally for confirmation as ERA4
07.04.44 - Granted Engine Room Watch Keeping Certificate
03.09.44 - WSI 3
30.10.44 - WSI 4
30.10.45 - WSI 5

Character, Efficiency, Date and Captains Signature
VG, Sat. (Act. ERA4), 31.12.40, Richard Burgess
VG, Sat. 31.10.41, K. Goodyer
VG, Sat. 31.12.42, V.D.H. Bidwell
VG, Sat. 31.12.43, A. Magg
VG, Sat. (ERA III), 31.12.44, M. Robinson
VG, Sat. (ERA III), 26.12.45, W. Barker