CONTENTS
PQ17 Diary
Jack Bowman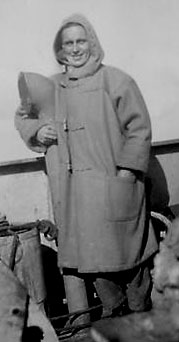 Engine Room Artificer (ERA) HMS La Malouine, 1940-44 (c) Bowman family archive.
July 1942
Wednesday, July 1st.
By now we are 70 degrees N, and on the bridge it is below freezing point. I have seen my first small iceberg, we were attacked all afternoon by subs, but no ship took any harm - the escort was too strong for them to enter. It was deafening in the engine room, depth charges going off everywhere. I thought many a time that everything was up. Standing by all the time with lifebelts on. My thoughts always with home.

Attacks started early again this morning by subs. It was reported that we had been spotted by a Focke-Wulf. This was bad, because later in the day we noticed three Dornier flying-boats shadowing us on our port beam. They kept manoeuvering for position, and at 2000 pressed their attack home. we beat them off, our ship bringing one down in flames (note 1). We picked their rubber dinghy up. It was well packed with stores. Subs came on again for the rest of the night.
---
Image above | Bl?hm und Voss BV-138
Friday, July 3rd.
Spasmodic raids by aircraft, who are still flying on our port side. At the moment we are on the outer screen. The Admiralty have just sent a signal to say that the German fleet, Hipper, Lutzow, Tirpitz and von Sheer with escort of destroyers have left Narvik and Trondheim. Icebergs are getting fairly big now. It is damned cold. 11.00pm.

German planes still making swoops at us, and shadowing. At 1800 suddenly the sky is black with bombers and the attack is on. It was a small hell let loose. As far as is known, all these were carrying tinfish. One of the merchant ships, it must have been an oiler, sank within five seconds (note 2). Soon the sea was covered with boats and rafts and bodies. As far as I know, three ships were sunk and some abandoned, but later were boarded again (note 3). All this time neither cruisers, battleships, or aircraft from the carrier came to our assistance. I suppose they were looking for the German fleet. Later on the Admiralty signalled all destroyers to leave the convoy and try to engage the Germans. The convoy was to split up, every man for himself. We seemed to be in a very hopeless situation. Soon ships seemed to be racing in every direction. Our captain (note 4) decided to go north. Two or three followed us.
---
Image above | Heinkel HE-111
By this morning we could get no further because of icefields. We are 15 degrees off the North Pole. What a sight! Icebergs as big as Orrest Head (note 5), all a lovely bluey-green, covered with arctic birds. I think we have covered about 200 miles trying to get round these icefields. At 1600 another Admiralty signal. Two German battlewagons and eight destroyers were likely to intercept that night, or early morning. Imagine our feelings. By this time we were beginning to lose hope. Remember that we had never had our clothes off for a week, and nerves were becoming taut. I never lost hope myself, but felt very sorry for one of my stokers whose nerve has gone. I was prepared, if given the chance, to sell my life very dearly (note 6). My only regrets were those I loved at home. A fog set in and we must have lost the fleet.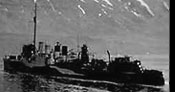 We have come to a big island, roughly the size of Britain. Its name is Novya Zemlya, about 1,OOO miles north of Archangel. We have found a bay and anchored (note 7). The place seems uninhabited, it is all snow and ice. I have heard that it is only open two months in the year. This voyage is becoming an adventure. Here we are, stuck in a bay, oil running short, food becoming rationed very thinly, and awfully cold. Several ships have come in tonight, including four American merchant ships laden with tanks and bombers, and a corvette with 70 survivors (note 8). I have not heard of Dianella since leaving Iceland, she always being on the starboard side of the convoy. I hope that she has come through alright (note 9). What we are going to do now I do not know. I doubt whether we will have enough oil to take us to the Russian mainland, 1000 miles. After what this crew has been through this last week, and when we return home, and the return journey has still to be made, someone will say 'her again'. If only we could give them a night of this! I will turn in for a couple of hours. It is midnight.
---
Image above | HMS Palomares in Pomorskaya Bay (c) Bowman family archive
We left at 1100 this morning, to take our turn at anchor guard. At 1700 we had a signal to say that the ships were going to try to make for Archangel. By 1900 a thick fog has set in, which has made going very slow. We have now found that one of the ships is lost (note 10). We are detailed off to look for it. After several hours we find it heading the remains of the convoy.
Wednesday, 8th July.
It has been clear today, with choppy seas until now, when a thick fog has set in. To make matters worse we have all nearly run into each other, having run into another icefield. We are trying to extract ourselves from this position at the time of writing. We should be now somewhere near the Kara Sea.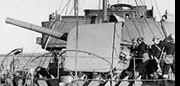 At 0245 this morning the lockout reported a periscope several miles off our port bow. It turned out to be the mast of two shipwrecked boats, containing 29 men. They were in a very bad way, with swollen hands, feet, and faces, we gave our beds up, but they cried in pain as they started to thaw out (note 11). The water temperature is 29 degrees. After the convoy dispersed on Saturday, they tried to make the Russian coast, but they found a Jerry sub following them. They opened up with their 4 inch gun and thought they must have got him, but he must have crash-dived, because every time the fog cleared he was there. This went on for two days. On Monday at 1530 he put two tinfish into them and then surfaced to take photos. Their cargo alone was valued at ?4,000,000. We are now steaming 78 degrees N 47 degrees E with huge icefields, 50ft high in some places. These last two days have been a nightmare, expecting to be cut open by the ice. We hope to make Archangel on Saturday all being well. We are ready for a break. It is warmest here at midnight when the sun is overhead. 2000. Bombers are overhead again. They dive-bombed us, and we lost our two remaining American ships. I had the sad experience of taking a boarding party on a 10,000 ton ship, Hoosier, and scuttling her (note 12). She was loaded with tanks and bombers. I don't understand this. We are in Russian territory, and have had no air support, although applied for. This attack lasted until midnight. I am feeling very bitter about all this (note 13).
---
Image Above | 4 inch gun on board a Corvette (c) TPS/Central Press Agency
Friday, July 10th.
We had another attack again at 0200, and then a break for several hours. We are in the White Sea now, and have been attacked all day, although we have just two rescue ships with us. They said on the wireless they would get us all, and they are picking us off one by one. If we are lucky we will reach Archangel tomorrow. I have just had some severe words with the CERA (Chief Engine Room Artificer) regarding action stations, we are stuck below where he should be; instead, he is on the upper deck with two lifebelts on (coward). He said he would take me on the bridge and I told him to get on with it.
Saturday, July 11th.
Today was peaceful. We anchored off Archangel about 1800. The children clambered round the boat wanting choc and cigs. They seem to have plenty of money, but it doesn't seem much good. It costs about 175 roubles for a meal, about ?3/5/- in our money. Everything is made of wood - there seems to be hundreds of miles of it.
Sunday, July 12th.
We moved off at 1745 to fill up from an oiler. The American survivors left our ship to join another. I will be able to have a bed tonight, the first for several. We have had no shore leave yet (duty tonight).
Monday, July 13th.
Stood by all day ready for going on patrol work. Got my washing done this afternoon. I got up at 0200 and had a bath. I couldn't sleep. It is now 2330.
Tuesday, July 14th.
We went to Archangel by ferry. If this is Soviet Russia, give me England! The place is vile.
Wednesday, July 15th.
Did several repairs today, and then had a walk around the town. It is called Maiskiy. All the streets are made of wood.
Thursday, July 16th.
Repairs to H.P. glands and circulator pipes. I saw N.B. for a few moments. They were alongside just before we set sail. We left at 1030 to look for survivors. Weather very stormy.
Sunday, July 19th.
We arrived in one of the fjords off Novaya Zemlya. We found a Russian merchantman and one of our Catalinas which had been bombed. Gangrene had set in with seven of the crew who had been wounded, and without medical attention. We then set off north again, and picked up a raft off the Samuel Chase, but no occupants (note 14). We divided their rations among the crew. Food is very scarce. I was listening to the service for seamen. Just as the vicar was praying for our safety, there were three bangs under the ship. Whether we had rammed a sub or not we don't know.
We found Benjamin Harrison, a large merchantman loaded with planes and tanks, hidden in one of the fjords (note 15). What a cheer they gave us! They had 200 survivors aboard from other ships, we left them at 0200, and spent the rest of the day up and down the fjords. We found four more. They had camouflaged themselves like icebergs, we went round these ships and got what food they could spare. We returned with it to the Benjamin Harrison and took their worst survivors on our ship (note 16). One little lad of seventeen was torpedoed twice in this convoy. They had been on rafts for six days, hands and feet nearly off.
Tuesday, July 21st.
We gathered up the convoy and set off for Archangel, intending to follow the island all the way down, and then make the 30 hour dash across to the Russian mainland. The weather became terrible, we decided to take advantage of it. At midnight we again ran into icefields. The pressure seems to push the ship's side in.
Weather still foul. Visibility very poor, but we are ploughing on. At 1800 tonight the AA ship (note 17) and Dianella have joined us.
Thursday, July 23rd.
Visibility about 50yds, all in our favour. Again I gave my bunk up to survivors, I am making this the last time, as I find that the occupant has been swinging the lead.
Friday, July 24th.
We attacked some subs in the White Sea today. We have at last reached the mouth of the river. It is now 1930, and about four hours steaming to Archangel. We are circling the convoy awaiting pilots.
Saturday, July 25th.
We arrived in port at 0300 this morning. Met N.B. we went to a Russian Dance. Arrived back on board at 2300.
Sunday, July 26th.
After divisions, J.Chadwick and I fitted the skiff with sail, and went sailing. In the evening we played football on the jetty, finishing up with mending and darning. Weather a bit squally.
Monday, July 27th.
Repaired after L.P. eccentrics. In the evening we moved further upstream. Very showery today. Wrote home and to Barrow.
Tuesday, July 28th.
Overhauled H.P. bearings, we have developed a hole in the ship's hull. It must have been a bomb splinter. Worked at it until 0200.
Wednesday, July 29th.
We left Zolomba at 0800 and proceeded to the White Sea. At 1530 we picked up 12 Russian destroyers, 2 icebreakers, and a fleet tanker. We are escorting them somewhere. A nasty drizzle.
Thursday, July 30th.
Fog is very dense, we are making about 13 knots. Kept very busy at throttle in engine room.
Friday, July 31st.
Fog still as bad. what I would give for a real meal. we have stopped having breakfast, haven't had any potatoes for a week. Living chiefly on boiled rice, without sugar, canned turnips, peas and beans.