CONTENTS
PQ17 Diary
Jack Bowman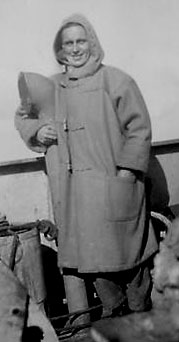 Engine Room Artificer (ERA) HMS La Malouine, 1940-44 (c) Bowman family archive.
June 1942
Left Londonderry at 0800 for Loch Foyle. We had ASDIC (note 1) trials and anti-aircraft. Our pom-pom gunners shot the trailer down. After that, several of the guns broke down (note 2). We returned to Derry at 2100. I am dead in a cold.
Sunday, June 21st
Left Derry again for further trials at 0730. These were very successful, returned at 2100. Tobruk fell today.
We repaired steering engine exhaust and main steam joints, dynamo, and reducing valves. I went to the 'Dianella' and saw Norman Birkett (note 3). We proceeded ashore, went to the pictures, and had supper.
Tuesday, June 23rd
Spent the day making a snifting cock for No.2 boiler room fuel pump. I had arranged to meet Norman Birkett, but as my cold was not improving, I stayed inboard and wrote a letter home.
We left Derry at 0900 for more exercises, oiled up, and set off on escort duties about 1400, along with two rescue ships, two corvettes including 'Dianella', and two Ack-Ack (note 4) ships.
Thursday, June 25th
We are steaming along at a steady twelve knots. The weather is dark and stormy.
Friday, June 26th
Still steaming at 12 knots. About 1600 we ran into a minefield, but we sank these by gunfire; again, at 2000 we ran into another, and got through safely.
Saturday, June 27th
I came off the morning watch at 0400. I was amazed on reaching the deck to see land all covered in snow. This turned out to be Sedijfjord, Iceland. Indeed, it was a glorious sight - mountains all round, stretching down to a natural harbour. I went ashore on the 1800 liberty boat to see what the habitation was like. I found the people were of Norse origin. The houses were built mainly of tin and wood, and what stores there were, were built under the houses. English and American troops are stationed here, and the price of things, my goodness! Kroners 24 to the Pound is the rate of exchange.
We left the fjord at 0100 this morning for a submarine sweep, arriving back at noon. I wish my wife could have been with me on this sweep, to be in broad daylight all night long, and the grandeur of this magnificent scenery. It reminded me of the pleasant days we had spent together in the Lakes (note 5). Leave was piped at 1400 for C.P.O.'s (note 6) only. I got the boat crew to take me over to 'Dianella ' which was anchored further down from us. I chatted with Norman for an hour or so, then got their boat crew to take me ashore. I watched a rugby match between two army teams, and then returned aboard. In the meantime, the cruisers 'London' and 'Manchester' and a score of destroyers had turned up. Spent the rest of the night playing cards. We left again at 2400 for another night's sweep, so they give us plenty of sea time!
Monday, June 29th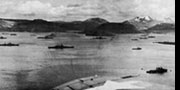 We returned from sweep at 1000, oiled up, and put to sea again at 1330 to pick convoy up, coming from America. It was a fine sight, all those destroyers, cruisers, rescue ships, corvettes and ack-ack ships.
---
Image above | PQ17 assembling at Hvalfjord (c) US Navy Department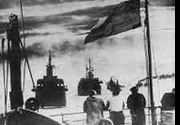 The weather is now very cold and foggy with a very low temperature. Our ship picked the convoy up at 1500 by R.D.F. (note 7) I believe that we were complimented for same. It was one of the largest convoys I have been in, huge ships, heavily laden. These were accompanied by Yankee destroyers, battleships 'Washington' and 'Duke of York' and an aircraft carrier ('Victorious'). Rumours started flying about that we were being used as a decoy to bring the German fleet out, the battlewagons being several miles astern. Our captain piped lower deck and told us for the first time that we were for Russia, and wished us luck.
---
Image above | PQ17 sets sail (c) Keystone Press Agency