CONTENTS
PQ17 Diary
Jack Bowman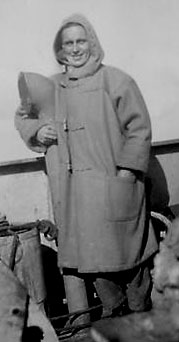 Engine Room Artificer (ERA) HMS La Malouine, 1940-44 (c) Bowman family archive.
HMS La Malouine ~ K46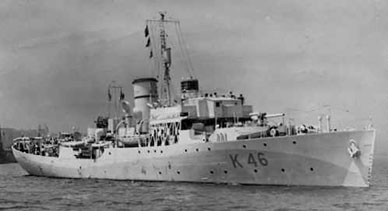 Image | HMS La Malouine (c) Bowman family archive
HMS La Malouine was a Flower Class corvette, built and commissioned into the French Navy at Smith's Dock, Tyneside in the North East of England. When France fell in 1940 she was seized by the Royal Navy at Portsmouth. Although she never saw a French sailor, she kept her name (which means "the girl from St. Malo") and flew, on occasion, the Tricolore.
La Malouine had an eventful career. She took part in numerous convoys, including HX72 in 1940 and PQ17 in 1942. Her war also saw her in the Mediterranean, seeing action in the North African campaign and supporting the landings at Anzio.
La Malouine was one of the earlier types of Flower before the improvement of a longer f'o'c'sle was introduced. The photograph above would appear to be early in her career as the 4 inch gun has yet to acquire any shielding.
La Malouine never returned to the French Navy and was broken up at Milford Haven in 1946.
Flower Class corvettes were designed before World War Two by the Admiralty to fulfill a requirement for an inexpensive and easy to construct anti-submarine escort vessel. These were laid down in large numbers, both in the UK (125 units) and in Canada (111 units) and served, with distinction, in the Royal, the Royal Canadian and United States Navies.
These corvettes undoubtedly helped to win the battle against the U-Boats, being equipped with both ASDIC (Sonar) and RDF (Radar) equipment. The Flower class had two main drawbacks; the first being that they were slow, U-Boats were able to outrun them on the surface. As this was the preferred method of attack for the U-Boat, corvettes had to be on their toes to catch submarines on the surface. Secondly, despite being extremely seaworthy boats, they were wet. This could and did make life extremely uncomfortable for their crews.
Nearly all the Flower class were scrapped at the end of the war. However, one has survived. This is HMCS Sackville (K181) which is preserved at Halifax, Nova Scotia (see the Links page also).
---
SPECIFICATIONS, LA MALOUINE
Class : Flower Class Corvette
Launched : 1940
At : Smith's Dock, Tyneside, England
Commissioned : June,1940. Seized by the Royal Navy on 3 July, 1940.
Speed : 16.5 knots maximum
Fuel : 230 tons oil.
Length : 205 feet
Beam : 33 feet
Draft : 13 feet 7 inches to 15 feet 9 inches (laden)
Displacement : 1170 tons
Complement : 85 officers and men
Endurance : 4000 miles at 12 knots
Armament : x1 4 inch gun; x1 2-pounder (pom-pom) on anti-aircraft mount; x2 20mm guns; x4 depth charge throwers
---
In addition to La Malouine the French Navy ordered 3 others of the Flower Class. These were La Bastiaise, La Dieppoise and La Pampolaise. Only La Bastiaise and La Malouine were delivered to the French Navy. La Bastiaise was destroyed when she struck a mine during testing at Hartlepool in the North East of England on 22 June, 1944. La Dieppoise and La Pampolaise were never delivered to the French and entered Royal Navy service as HMS Fleur de Lys and HMS Nasturtium respectively. La Malouine fitted out at Portsmouth during June 1940 and was seized by the Royal Navy on 3 July,1940. All were built at Smith's Dock.