CONTENTS
PQ17 Diary
Jack Bowman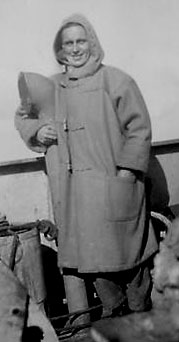 Engine Room Artificer (ERA) HMS La Malouine, 1940-44 (c) Bowman family archive.
August 1942
Saturday, August 1st.
The morning was very sunny, and we increased the knots considerably. We are going through the Kara Sea again.
Sunday, August 2nd.
Arrived 0400 this morning. We have run into huge icefields again. The icebreakers are at work. We patrolled around all day. Left again at 1600.
Monday, August 3rd.
Weather fine with choppy seas. The sunsets are the most beautiful thing I have ever seen. I am thinking about Bank Holidays at home today.
Tuesday, August 4th.
Everything just the same. We are in the White Sea again.
Wednesday, August 5th.
We arrived back at 0300, and anchored in midstream. We have just heard that we are boiler-cleaning here, so that seems to suggest staying a bit, and lots of work.
Thursday, August 6th.
We had inter-ship boat racing today. Our ship did well. The seamen won, and so did the officers. I entered the Carley Float race. It was great sport.
Friday, August 7th.
We moved up to Exonomoiy this morning, and then hung about all day.
Saturday, August 8th.
Started boiler cleaning. I saw N.B. tonight, and we had a walk around. I got a vodka pot.
Sunday, August 9th.
Worked all day. Weather very changeable.
August 10th-16th.
Doing repairs to boilers and engines. Finished boiler cleaning on the 13th. We had a ship's concert on the 15th, given by the ship's company. It was very good. Time is dragging now, and food is very scarce. One of the trawler's stewards died on Saturday evening. He was drowned getting out of the skiff. I sent a cablegram home on the 14th.
17th-26th August.
Just hanging around doing odd jobs. we have been rationed to a slice of bread each meal. The steward off the trawler came to the surface after nine days, and was buried at sea. We also had an air-raid on the 23rd, several fires being started.
Thursday, August 27th.
Set sail for a seven day sub sweep. Also heard the news that we are due in England by Sept 27th (I hope so).
Saturday, August 29th.
We have heard that submarines are operating around these islands, shelling small homesteads, we are trying to find them.
Sunday, August 30th.
At 0600 this morning the White Ensign went up on the main mast. We were then engaging the enemy at a distance of eight miles. The chase carried on for six hours, when they eventually dived. This was our chance, or so we thought, expecting the kill to take place that afternoon. On arriving at the place we found that it was a huge icefield. We stayed around until Monday morning, but did not pick them up again.
Monday, August 31st.
We have set off back again for Archangel.