CONTENTS
PQ17 Diary
Jack Bowman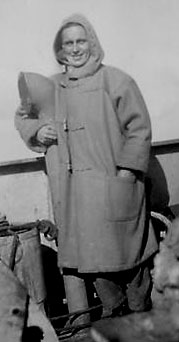 Engine Room Artificer (ERA) HMS La Malouine, 1940-44 (c) Bowman family archive.
September 1942
Tuesday, September 1st.
We have been warned that planes have been over and laid mines. Going is very slow with the minesweepers in front.
Wednesday, September 2nd.
We arrived at the bar at 0300 this morning, and moved up the river again at 0700, finally dropping the hook at 1500. During these operations the E.R. staff were complemented for our excellent output, having dropped all the other corvettes in the action.
Thursday, September 3rd.
Doing repairs again. I had a very bad tummy during this last trip, probably due to the food. It is an awful feeling being hungry all day. Some of the fellows have already lost 4".
Friday, September 4th.
Doing repairs to main engines.
Saturday, September 5th.
Still at repairs.
Sunday, September 6th.
I went to Holy Communion this morning, given by a padre from Archangel. It was held in the hospital of the rescue ship 'Rathlin'. All the ships had a church service later in the morning, the first since arriving. I played cricket this afternoon. I have just had my supper. I do feel hungry, my tummy keeps crying for more, but it is no use.
September 7th-9th.
Doing work for the Captain's cabin. Cablegram home. Put in request to
shave off.
Thursday, September 10th.
We had some fleet mail brought on board tonight, so that looks like we are going back to the U.K. several merchant ships are loading up with survivors, several without arms or legs.
Friday, September 11th.
We had a make and mend this afternoon, probably our last. I saw N.B. tonight, and we had a walk about the town, finishing up on my boat for a tot.
Saturday, September 12th.
It is pouring down with rain this morning. The tugs are busy pulling the merchant ships out. The 'Dianella' has tripped anchor, we have moved down as far as the bar.
Sunday, September 13th.
The convoy started to move into position at 0800, and took until 1730 before we got going. Very high seas are running.
Monday, September 14th.
We arrived at the head of the White Sea tonight, and are moving into the Arctic.
Tuesday, September 15th.
We are moving due north today, intending to go to 80 degrees, it is getting very cold. We have left one ship already. Today brings back much pleasanter memories than I am enduring at the moment.
Wednesday, September 16th.
It is snowing hard this morning. We have been spotted by a Dornier and unless the weather favours us, I guess we will all be standing by. This evening a bomber dived out of the clouds and missed our mast by a few feet. It dropped a stick of bombs, but they too missed.
Thursday, September 17th.
Today we are joined by an extra escort, I think one of the largest. The following names are some of them:
Escort QP17: "Blankley', 'Lord Middleton', 'Palomares', 'Pozarica', 'Dianella', 'Lotus', 'Poppy', 'La Malouine', 'Lord Austin', 'Ayrshire', 'Northern Gem'.
Battleships: 'Anson', 'Duke of York'.
Covering Force: 'Jamaica', 'Echo', 'Montrose', 'Keppel', 'Campbell', 'Mackay', 'Scylla', 'Somali', 'Tartar', 'Eskimo', 'Ashanti', 'Faulkner', 'Fury', 'Intrepid', 'Impulsive', 'Onslow', 'Offa', 'Onslought', 'Opportune', 'Milne', 'Norfolk', 'London', 'Sheffield', 'Cumberland', 'Eclipse', 'Bulldog', 'Walpole', 'Venomous'.
Minesweepers: 'Harrier', 'Sharpshooter', 'Gleaner'.
Carriers: 'Avenger', 'Wheatland', 'Wilton'.
Others-.'Worcester', 'Windsor', 'Oakley', 'Cowdray', P145 and P146.
Friday, September 18th.
The decks are covered with ice and snow, and it is blowing a gale. We took on oil from one of the tankers, this was done while under way. Some of the seamen were brought in with their jaws frozen up. It is icy-cold in the engine room. I have been so long without a good meal I don't think I shall be able to eat one now. We passed the island of Good Hope tonight.
Saturday, September 19th.
We are running alongside Spitzbergen today. It is all covered in snow and ice. I am glad that I live in the U.K. We are being shadowed by German aircraft all the time.
Sunday, September 20th.
Subs attacked all day. We lost the sloop 'Leader', one merchant ship, the destroyer 'Somali' badly damaged, but taken on tow by 'Ashanti'. Depth charges dropped all day.
Monday, September 21st.
Another day of attacks. I have just taken two hours rest, the first in 48, and am returning to it again.
Tuesday, September 22nd.
Attacks all day, lost 13 more merchantmen. Cold and rough.
Wednesday, September 23rd.
We lost an oil tanker and one ship today, we are nearing Iceland now, and I can see the snow-capped mountains. Going is very slow, as Jerry is laying minefields ahead of us.
Thursday, September 24th.
The seas are so rough, I almost feel as though I have been filleted. We attacked a sub this evening, the skipper claiming a probable. The sea was covered with herring from our depth charges. Our mess dropped a net and got some. They tasted like heaven after what we have had.
Friday, September 25th.
We passed the Faeroes on our port bow, so we will soon be reaching our native shores.
Saturday, September 26th.
I am making this my last entry for this trip. We are now heading for Loch Ewe, and we should reach Liverpool late Sunday or early Monday morning. Everyone is longing for the tie-up, so that they can have a full night's rest.